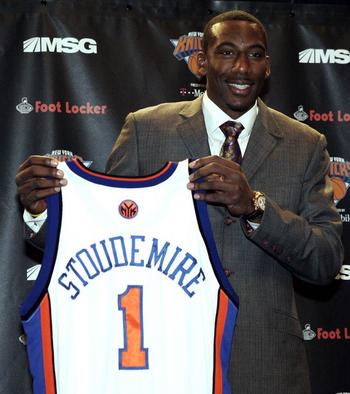 In a telling interview with
New York Magazine
,
Amare Stoudemire conveyed that Isiah Thomas had nothing to do with him signing with the Knicks.
NYM:

Between the day free agency started and the day that you signed, did you talk to Isiah Thomas?



Amare:

No. I didn't talk to him once.



NYM:

Not once? He didn't influence you to come here?



Amare:

I never talked with him once.



NYM:

Wait, so have you even met him?



Amare:

A while ago, I think.



NYM:

So, to be clear, you didn't talk to him at ALL during this negotiating process with the Knicks?



Amare:

Nope
Stoudemire's comments inadvertently refute James Dolan's claims that Thomas was influential in the Knicks' recruitment of the NBA's free agent superstars this summer.
That also likely means that Thomas' "assurance" to Dolan that Carmelo Anthony will eventually join the Knicks means absolutely nothing.
Nevertheless, it appears as though Anthony's desire to play in New York is legitimate.
Stoudemire's desire to put on a Knicks uniform surely stemmed from the chance to experience stardom in a bigger market. Furthermore, at the time of joining the Knicks, Stoudemire viewed developing the Knicks into a winner as a challenge; one worth taking at that.
As a result of joining the Knicks (in addition to that same individual fame), Anthony could also take on a challenge of his own. However, with he and Stoudemire leading the way, simply winning would seemingly no longer be daunting for the Knicks.
That new found challenge, of course, could ultimately be fighting with the eastern conference powerhouses all the way to the top.