**This piece was written by Rhonda Dearborn, the newest contributor at Knicks Journal.**
Recently, there was a debate on Twitter amongst fans who follow the popular "The Knicks Blog Radio" show hosted by Anthony Donahue. Does Carmelo Anthony, in some transcendent way "belong" in a Knicks uniform? Was he destined to lead the Knicks to a championship? Do fans of the 'Bockers already feel a sense of ownership towards the hometown kid?
Interestingly enough, Chauncy Billups of the Denver Nuggets talked last week about the ephemeral nature of fan loyalty to players. He suggested fans get upset when players ask for trades, but then do not care as much when teams simply trade away players.
When asked about the Denver fans booing Melo at home, Billups told NBA Fanhouse,, "I hate to see him going through that. But those are die-hard fans, man...They're getting the message that they're getting, and they don't appreciate that.
He intimated that the loyalty isn't always there for guys who have won for teams in the past.
"Everybody wants him to be loyal to (Denver) but everybody thought I was going to be in Detroit forever (before being traded in November 2008 to Denver). Nobody cared about them not being loyal to me... It's a double standard.''
There are certain players that are identified with a franchise and are literally the essence of what that team comes to be about: Larry Bird and the Celtics, Magic Johnson and the Lakers, and David Robinson and the Spurs. You can picture their face in your mind; you see the uniform, the championship banners, and the associated city.
Patrick Ewing is the embodiment of what the New York Knicks franchise should be recognized for: toughness, work ethic, heart and loyalty. When he was traded to the Supersonics in 2000, many fans considered it sacrilege and what is now the "curse" that has plagued the team up until this current 2010-2011 season. When thinking of him, however, this outrage should never come to mind: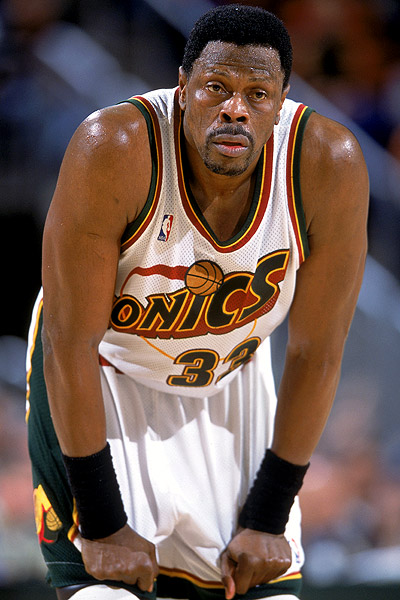 While people follow sports for different reasons, many feel a true connection with the players who wear their team colors. Whether it be character, heart or charisma, there is a magical bond that wouldn't mean much if the team were losing and if the player weren't successful. The magic of sports comes from those very moments when a fan gets to high five his idol after a meaningful play, when a player points to the stands and pumps his fist after a win, or when the fan gets to stand in the same stadium as his favored team and drink in the rarified air of playoff runs, dramatic overtime wins and heartbreaking, gut-wrenching losses that end a season.
Fans like to think that all this is "meant to be," a preconceived set of circumstances that led that player to don that uniform at that point in time to make that connection with the fans and be "theirs" for life. If there weren't those feelings of a connection, what would sports really amount to other than a business?
Many would argue that the business of such sports, as well as their lists of rules and regulations, make this magic that much more difficult to realize. Less and less do we see players stay in one uniform for the life of their career. Can any single team's fans claim Shaquille O'Neal as their own?
When a player is traded after years of service to a team, it is a sad day for the true fan. While professional sports is a business, the magical, transcendent connection between player and fan cannot be dismissed. Winning would be empty without it.
Who are the players and moments that struck a chord with me in my lifetime? While casual fans will remember John Starks from "the dunk," it's difficult to define him by one moment, as he wore his heart on his sleeve each and every game he took the court for the New York Knicks. Other memorable moments include all the times he came out with the mask to protect an already broken nose, or any time he pointed to the "NEW YORK" on his jersey as a sign of pride and unity with the fans. (Any Knick who does this and deserves to do so is a hero to me!)
Patrick Ewing, after winning the Eastern Conference Finals against the Pacers in '94, standing on the scorer's table to salute the "Garden Faithful", hugging and exchanging emphatic high-fives with passionate fans was one of those magic times that will always resonate with Knick fans. Larry Johnson's four-point play; every ounce of brute force Anthony Mason displayed on the court and the sacrifice and fight Charles Oakley brought forth each and every night are all part of the pantheon of indelible images lodged in the collective consciousness of Knick fans.
These players (and their most glorious moments) are often associated with what fans should always remember when thinking about the New York Knicks.
Is it inevitable that Carmelo Anthony will be a Knick? Do the fans already "own" 'Melo in any way; have we (the fans) the right to even stake that claim? I think it is way too early for that. Let's get him in that orange and blue uniform. Let him make his own connection with Knicks fans; win some games with a final shot at the buzzer, pump his fist in the air at the fans after a crucial bucket, grab his uniform and point to those words, "NEW YORK." We've got to see the sweat, love, and magic connection before we can truly say: 'Melo was meant for us.