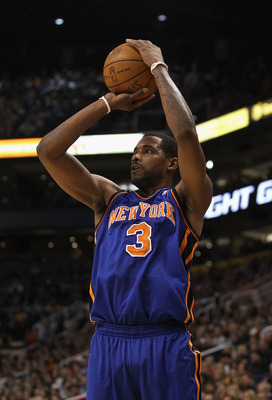 Looking for some snubs? Shawne Williams of the Knicks leads the league shooting 50.6 percent from three, and he is just ahead of the Spurs Matt Bonner at 50.4 percent. One other guy that would have been a good fit is
Arron Afflalo
of the Nuggets, shooting 44.9 percent from three this season.
Though the NBA selected Kevin Durant, James Jones, Daniel Gibson, Dorrell Wright, and Celtics teammates' Paul Pierce and Ray Allen to compete in the 2011 Sprite Three-Point Contest at All-Star Weekend, Knicks forward Shawne Williams was left out.
While Williams' percentage does lead the league, most of the contest's selected participants have doubled his shot attempts.
Perhaps it was his spotted past that provided Williams with a disadvantage, but his impressive climb from 15th man (after being just a training camp-invitee) to key rotation player would have been a very positive story during the contest nevertheless.
Williams has become known for constantly hitting the corner three on the Knicks all season long, and has been one of the many pleasant surprises for the team this season. Since emerging into the rotation, Williams has averaged 6.7 points and 3.4 points in 18.1 minutes through 32 games. His status as a reserve, averaging less than 20 minutes per game (furthermore not playing in the beginning of the season) likely hurt his chances as well.
James Jones, who boosts the most similar overall numbers (almost identical, aside from Williams' much higher three-point percentage) to Williams than any other contestant, has played in 19 more games and plays for the powerhouse Miami Heat. Should playing for a better team matter for such a contest, just as it plays a role in All-Star selections? Perhaps not, since Gibson of the Cavs was (pitifully, maybe?) selected to participate.
Danilo Gallinari, who participated in last year's contest, is shooting 36% from beyond the arc and was not selected again this year.