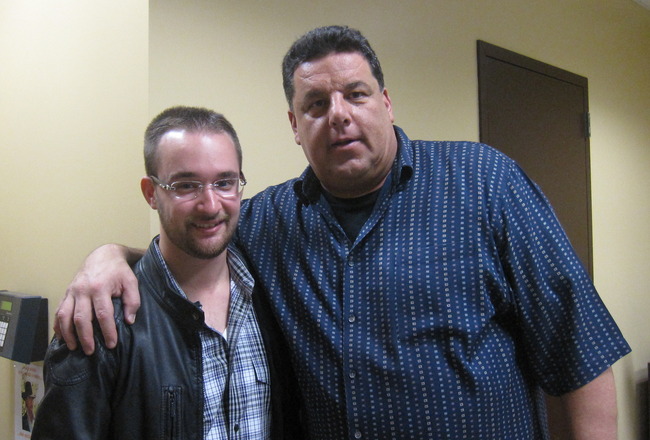 After a long journey back to contention, the New York Knicks are finally back in the NBA Playoffs, and all of their fans are rejoicing. The long list of loyal fans ready to celebrate playoff success includes none other than Sopranos star and actor Steve Schirripa, who can often be found cheering his favorite team on at Madison Square Garden.
Schirripa appeared at Stew Leonard's Wines' grand opening of its new location in Carle Place, New York to promote, what else, The Sopranos Wines. The actor sat down to discuss the Knicks' tough road ahead in the playoffs (starting with their first round series vs. the Boston Celtics), the certainly eventful season, and of course, his passion for his favorite team.
To find out what he thinks of the Knicks' playoff chances, his favorite all-time Knicks playoff moment, and if he'll be tuning in to Carmelo Anthony's upcoming reality show, read on!
Q: Do you think the Knicks have a chance at defeating the Celtics?
A: Well, I think if there's anytime that they will, now is it. The Knicks are peaking and the Celtics are just wavering. The first game is going to mean everything. We have to win that first game in Boston. If we do, I think everything is going to be alright.
Reflecting on his passion for the Knicks: I'm a true Knicks fan. I was there before all the hype. I was there for all the bad years. Every rapper and everybody else that comes out of the woodwork now—they are frontrunners. I'm a real fan and there is nothing I want more than the Knicks to win this series because the city is going to go crazy. This is the Knicks first playoff series in seven years, and first winning season in ten years, so the city really wants this to work, and I think it's going to.
Q: Do you feel as though the Knicks' team chemistry is at a high enough level to win?
A: The chemistry has really looked good down the stretch here. The Knicks obviously have three really good players. I really like Fields too. Turiaf definitely has to play well, because defense is going to be the key, but I think the Knicks know that. The defense has been better lately. I think that they're well aware that if they don't play good enough defense, they're not going to win.
Q: Do you think Mike D'Antoni is the right coach for the team?
A: Time is going to tell. I think he's a good guy, but I don't know whether the players have to fit into his system or if he has to fit into theirs.
Q: Do you have an all-time favorite Knicks' playoff moment?
A: Oh, it has to be when Willis Reed limped out onto the court during Game 7 of the 1970 NBA Finals. But the thing about that game is that Walt Frazier had the game of a lifetime! People overlook it and nobody remembers that he won the game for the Knicks. He was clutch. I know Willis came out, but that was Clyde's game.
Q: I know you aren't the biggest fan of reality TV. Will you be watching Carmelo Anthony and his wife's reality show, "LaLa's Full Court Life," on VH1 this summer?
A: Ha ha, no I'm not. I won't be tuning in, but that's OK. Count me out, because I'll be one guy that isn't watching. It takes a certain guy to be on that type of show, but if he's comfortable there, that's fine. You've got to remember, if you don't make things happen, nothing is very exciting.
Q: But do you feel as though Anthony is the true superstar the Knicks have been waiting for?
A: He certainly seems like it. Look, I was for the trade since day one. I loved all those players—Felton, Gallinari,--but the Knicks had to make that trade. They acquired two really good players, and they're still a couple of pieces away from the puzzle—they need a big man. But I would make the same trade tomorrow.
Q: Did you and Gallo ever talk about your Italian culture while he played here?
A: Nah, but I met him a bunch of times. I would see him around because we used to go to the same Italian restaurants, but I'm sure now he's eating at a "Pizza Hut" out in Denver! That's about as good of a meal as he's going to get.
Q: Tell me a bit about your relationship with Stew Leonard's Wines.

A: Stew's a great guy, we were friends for a few years before I starting doing these types of things. He often gives money to the charity I support (part of the proceeds for The Sopranos Wines go to the Child Abuse Prevention Program), and I think he's a really good guy. That's why I wanted to do this.
On how well he interacted with fans, exchanging hugs and bouncing various fans' babies on his knee: You know, everyone came out and supported The Sopranos Wines, Stew Leonards Wines, and my charity. They trekked all the way out here to see me and were all very nice people. There's nothing on my part not to be nice about.
Q: Before I let you go, you have to tell me about "Nothing Personal," the show about real life murders for hire, that you host.
A: It just got picked up for a second season! It's on Investigation Discovery, and the show really did well. The ratings were great. People have really seemed to enjoy it and still find it on TV, so I'm looking forward to continuing that. I'm also on "Secret Life of the American Teenager" on Monday nights at 8pm EST on ABC Family. That show is going great. People can catch the third season airing now, but we are also shooting the fourth season as we speak.