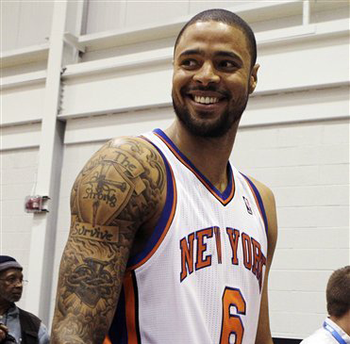 **This analysis was written by Knicks Journal's newest contributor, Zach Horst. You can follow Zach on Twitter
@zd183.
**
Standing over seven feet tall, Tyson Chandler, at first glance, seems like he would be a dominating presence in the paint on the offensive end for the Knicks. Early in his career, his performance on offense was lackluster and the reputation as purely a shut-down defender has stuck with him ever since. Fact is Chandler may not be as bad on offense as many think, and he is starting the year tremendously on that end.
Simply put, he needs the ball more.
Chandler is averaging some of the highest minutes of his career, at 33 per game, yet his field goal attempts are the lowest of his career, at 3.7 per game. He has averaged 5.4 attempts for his career, and I have reason to believe it ought to be higher. Many times he has a good position on the block, or could sky for an alley-oop, but he seems to be the last option.
On the rare opportunities he has received the ball this year, he is shooting 73% from the field! In addition, he is averaging 7.2 FT attempts per game and making 79% of them, entering Friday night's game vs. the Wizards.
Furthermore, his True Shooting Percentage (TS%) is second-highest in the league at 81. Of course, as the season progresses, his numbers will drop slightly, but the point is that the Knicks have not had a center with this much potential since Marcus Camby. In fact, Chandler and Camby have very similar styles, and Camby saw a ton more touches way back when.
These stats make it clear that good things happen when Chandler attacks the rim. The offensive spacing seems to be giving him good opportunities because so much attention is paid to the Knicks other stars; the team just isn't taking advantage of it. Especially effective is the Melo/Chandler pick 'n' roll. Watch this game recap below.
At the 1:17 and 2:10 marks, in both instances, both defenders follow Carmelo after the pick. As one of the most lethal shooters in the league, this will happen more often than not – leaving Chandler wide open rolling to the hoop. In one play, Melo takes the shot. In the other, he doesn't. It would be more beneficial for Chandler to attack the rim rather than a double-teamed Anthony taking a contested three.
At the 1:25 mark in the clip below, you see another example of perfect execution. This needs to happen more than two or three times a game.
Now, when two of your teammates are perennial top-ten NBA scorers, you have to expect fewer touches. On the contrary, though, when Chandler has the ball, STAT and Melo are free to find open space. Even if the ball is dumped into Chandler for two or three dribbles on the block, Anthony or Stoudemire can curl for an open jumper, and Chandler can kick it out of the post to them.
The offense has looked stagnant and disappointing so far, but the one bright spot has been Tyson. He isn't an offensive juggernaut by any means, but when someone is taller and more athletic than the person guarding him, he should definitely not be ignored. When he has tried to score, the Knicks have been successful, so why not experiment further? He should be able to go at least 5-8 from the floor each night, with an additional 4 or 5 points from the line. The Knicks would benefit greatly with an inside presence, and their offense would only get better.