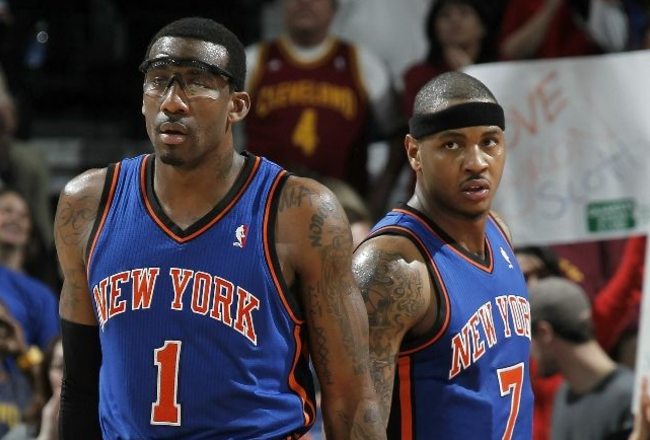 Team USA announced its twenty finalists for the 2012 Olympic squad, with Knicks' teammates Carmelo Anthony and Tyson Chandler receiving the high honors.
The large pool of players, which also includes
reigning MVP Derrick Rose, multi-time all-stars LeBron James and Kevin Durant, as well as past NBA champions Lamar Odom and Chauncey Billups, will be trimmed down to twelve participants in time for competition in London.
Though the group of finalists represent some of the NBA's top-tier talents, there is one notable omission Knicks fans may take offense to: captain Amar'e Stoudemire.
STAT, who started at power forward for the Eastern Conference All-Star Team last season, was of course part of the larger pool of players biding for a spot on the 2010 U.S. Olympics roster.
However, when it came time to name him one of the final twelve, the Knicks had reportedly stepped in to request he not play, citing his uninsured contract as the reason. At the time of the request, Stoudemire was just weeks removed from signing his $100 million contract with New York, and the Knicks certainly had justification for holding their own (potential) success in higher regard at that point in time.
That was then, and this is now. While Knicks officials are not believed to have a preference as to whether or not Stoudemire participates this year, it is believed Team USA President Jerry Colangelo
did not want to have Garden policies as a pote
ntial
hurdle once again when making selections.
Given his recent struggles on the NBA hardwood, Stoudemire should keep his head in the game and concentrate on how to once again elevate the New York Knicks. Though it helps, being an all-star does not make one a shoe in for Team USA as it is. The squad finds balance in veteran leadership and experience, and players who are especially stellar in a certain skill (for example, Chandler's defense).
Stoudemire has seemed to struggle meshing with Carmelo Anthony on the court, which may indicate perhaps he is not the best candidate for a slot on the star studded Team USA. That being said, he is happy for his teammates and will be open to playing for the team, should they call at some point in the future.
Should STAT find the game he so effectively honed last season, perhaps they will. Just as a player like the Blazers' LaMarcus Aldridge was given late consideration for his strong play early on this season, it is also possible the Knicks' captain's early difficulties could have been a factor in not naming him to the pool.
Despite arguably being the NBA's second strongest defensive center behind Dwight Howard, Chandler is not widely expected to make the final cut, though Anthony should.