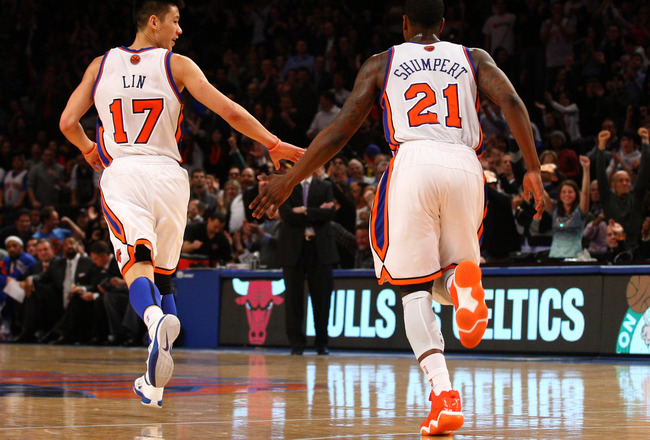 In a bit of a surprising move,
Marc Stein reports
that the Knicks' Iman Shumpert will be participating in the NBA's "Sprite Slam Dunk Contest" during All-Star Weekend.
Knicks fans were disappointed to see Shumpert was passed over for the Rising Stars Challenge, given his early success. Though he hasn't been a high-flyer with his dunks during games too often, it's known the rookie has some legitimate hops, and now has the perfect platform to show them off.
The selection was undoubtedly influenced by the Knicks' electrifying seven game winning streak. If that's the case, it would only be fair that the man who has propelled the team during this stretch would join Shumpert, right?
Indeed. Jeremy Lin will apparently be bringing LINsanity to Orlando during NBA All-Star Weekend. Lin will be assisting Shumpert during the contest, in essence, guaranteeing a win for him, many would assert. The electricity surrounding Lin's presence may be too much for everyone else to play down their excitement, rooting for Shump to win.
What's more, there have also been rumblings the NBA is trying to add Lin to their pool for the "Haier Shooting Stars Competition." The contest, of course, groups a current player with an alumni from his team, and a WNBA player from that city, together to compete.
A bit of an interesting debate--which Knicks sharp-shooting alum would compete with Lin? Allan Houston, John Starks, and Trent Tucker (among others) all stand to be decent candidates, but to me, there would be no one more exciting to watch hoist up long-bombs during the contest than Mr. 4-Point Play himself, Larry Johnson. More on this if and when it comes to fruition later.