While NBA powerhouses like the Heat, Celtics, Thunder, and the Spurs continue to fight it out for the chance to compete for and potentially take home an NBA title, teams like the Knicks have already begun to settle into the offseason as they watch from home.
Though the first order of business for the Knicks this offseason won't officially begin to take place until NBA Draft Day, the hearing on whether or not players like Jeremy Lin and Steve Novak will retain their "Bird Rights" takes place next week.
Otherwise, fans are somewhat left in the dark as members of the team look to (rightfully so) enjoy their time off. But as
our good friend Seth Rosenthal notes, y
ou can often get the inside scoop as to what the Knicks are up to by following Social Media.
In any event, let's take a look at what some Knicks teammates have been up to thus far.
Though many of the players have opted to retreat home, J.R. Smith has continued to spend much of his time in the Big Apple. In addition to checking out the Summer Jam concert and engaging some fans with late-night bike-rides, the swingman has also returned to MSG (sitting next to a Knicks' fan-favorite) to watch the New York Liberty of the WNBA play. Word has it
he's also played ball in the heart of Brooklyn
with former Nuggets teammate Gary Forbes.
Injured guard Iman Shumpert has also spent some time in New York, splitting his time between here and his hometown of Chicago. He's been working hard at taking the first steps of his rehab process and has been looking for apartments back home. He returns to New York City this week for a promotional
appearance at the Lord & Taylor on Fifth Ave this Thursday night (June 7th)
alongside NFL star and New York Giants receiver Hakeem Nicks.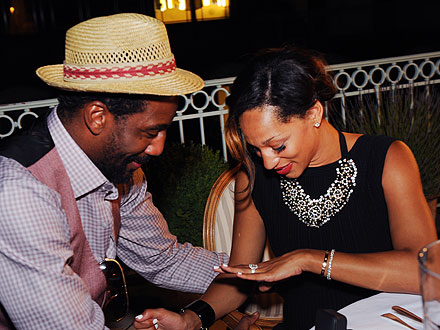 Star players Amar'e Stoudemire, Carmelo Anthony, and Tyson Chandler
all attended the Met Gala earlier this month with their significant others.
A avid traveler, STAT ventured to Puerto Rico with kids before going to Paris
where he proposed to Alexis Welsh, the mother of his three kids.
She said yes!
In addition to recently celebrating his birthday alongside music stars Swizz Beatz and DJ Clue, Carmelo Anthony
took
part in Jeep's "Power by Design" event in the city yesterday
to help promote the brand and USA Basketball. Knicks great and current Assistant General Manager Allan Houston also took part as both engaged with fans throughout the day. Anthony talked about up being coached once again by Mike D'Antoni, who is an assistant on Team USA.
While Smith, Shumpert, and the team's three big stars have been staying pretty busy, it appears as though Landry Fields has been quietly enjoying his time home in California. Note to self, though;
never watch a movie alongside Landry....
That's all for now. If you happen to think any of the Knickerbockers are up to something neat over the course of the offseason, hit us up on Twitter
@KnicksJournal
to let us know!