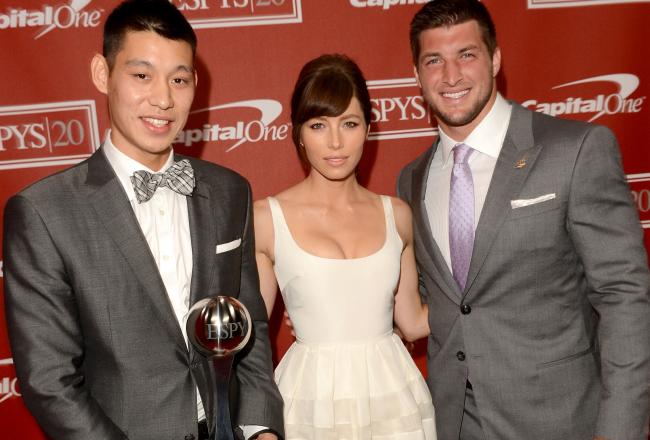 "Linsanity" continued its national dominance last night, helping Knicks guard Jeremy Lin take home an ESPY Award for "Breakout Athlete."
Granted, while Lin's outburst onto the NBA scene came on perhaps the league's biggest and brightest stage (Madison Square Garden), it's worth noting that the Harvard grad's efforts (during which he propelled New York to a miraculous seven-game winning streak) are still getting recognized.
In addition to his influence as a worldwide phenomenon, Lin's role as floor general of the Knicks proved to be vital to the team's success from the moment he hit the hardwood. Though he rose above, coming out of nowhere to play at a superstar level for a couple of weeks, the guard's impact continued to be felt as he found his proper place, meshing well the team's existent stars as the season progressed.
After losing out on Steve Nash and choosing not to pursue a secondary target like Raymond Felton, New York ultimately let other teams set the market for Lin. By doing so, the team allowed the Rockets to attempt to right their wrong of cutting him less than a year ago. Lin and Houston came to terms on an offer sheet worth $28.8 million over four years.
With the moratorium period now over, the clock will begin to tick for the Knicks once Lin actually signs the offer sheet. The question will become whether or not they'll match it. Or is that really a worthwhile question at all?
Not only has the team made it well known they've planned on matching any offer Lin receives since day one, but Knicks head coach Mike Woodson
seemed positive of the young stud's return while addressing the media
in Las Vegas.
Lin certainly appeared like a sure piece to the puzzle in Woodson's plans for next season, with the coach even going as far as revealing he plans on starting Lin and bringing Hall of Fame bound guard Jason Kidd off the bench.
Kidd signed with the Knicks, of course, in part because he plans on mentoring Lin.
Aside from the endless number of marketing and promotional opportunities ($$$$) Lin will continue to receive as a member of the Knicks, he drew the fans in and delivered electricity and excitement to the Garden. His presence is certainly felt on the hardwood as well as off of it.
Though such a financial commitment can appear a bit steep for a player who only had a few months to prove himself, retaining Lin stands to pay dividends for the Knicks in a number of ways. He's a very popular and talented player who has shown the ability to help the team succeed. With his inexperience being his only downfall, a championship winning playmaker like Kidd is there to balance things out.
If the Knicks are lucky, Kidd will pass on enough of his skill and intelligence (before his own carer is over) to Lin. The team seems to have enough faith in him to call him their point guard of the (foreseeable) future, so hopefully it'll be Kidd who helps ready him for such a role.