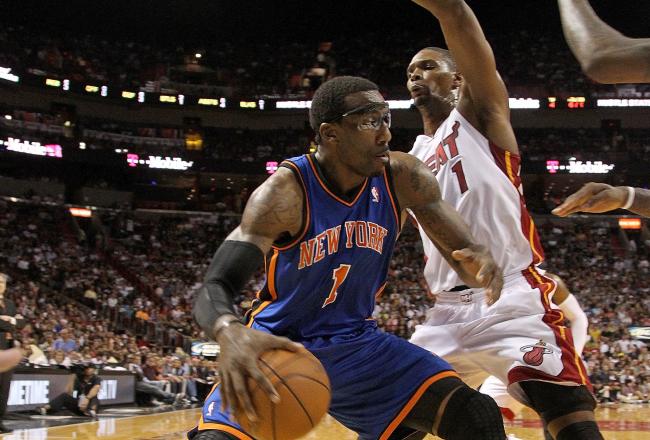 At Knicks Journal,
we've been keeping a close eye
on Amar'e Stoudemire's workouts this month with Hakeem "The Dream" Olajuwon in Houston. Today brings yet another video clip, exclusively from Team STAT, with an update on Stoudemire's progress.
The key to the Knicks' star forward making strides over the last week seems to be his level of motivation this summer.
In the summer of 2010, Stoudemire was a pioneer of sorts when he arrived in the Big Apple, ready to spearhead a changed culture and mentality for the Knicks. During their first half season together, STAT and Carmelo Anthony ranked among the league's top duos in total points scored, often trailing only LeBron James and Dwyane Wade through the tail of the year. The pair looked as though they would only improve with time to build rapport and an understanding of each other's game.
Instead, the 2011-12 season was one during which each player struggled with his own inconsistencies. Though Anthony finished strong, playing like a surefire M.V.P. candidate in the month of April, he sometimes failed to aggressively take over games.
Nevertheless, it was clear Anthony was the team's number one option on offense throughout the season. Given Stoudemire's ability to dominate and fill it up on offense, the line between the two scorers shouldn't have to be so clearly drawn.
Instead of being a secondary option on offense, STAT too needs to play like an obvious NBA all-star. Each with the ability to score upwards towards 25 points per game, Stoudemire and Anthony should serve as 1A and 1B options on offense, rather than one and two.
Hakeem Olajuwon
, a former Houston Rockets star and an oracle of the low post, is pleased with his pupil's progress.
"You won't believe it," Olajuwon said in a telephone interview from his ranch outside Houston.
The apprenticeship began on Aug. 6, with daily three-hour sessions on Olajuwon's private court. Stoudemire has proved a quick study, assimilating moves and countermoves as fast as Olajuwon can demonstrate them.
"It's night and day," Olajuwon said. "What's so nice is he wants it; he likes the post. He's always wanted to play there, but he doesn't have the moves that would give him that option."
As always, make sure you give Beck's piece a read. A (now) rare Knickerbocker feature from the newly appointed Nets beat writer, Beck examines the big man's progress as he looks to bounce back from last season.
With STAT seemingly making vast improvements in Houston, and Anthony having appeared to regain some of his swagger while representing Team USA in London, Knicks fans should begin to feel optimism filling the air.