Knicks Lose Heartbreaker After Fighting Back from 27 Points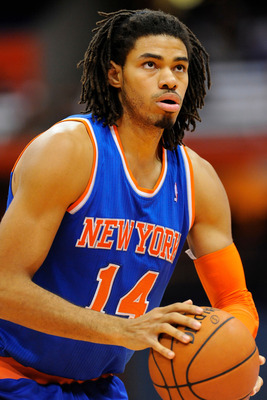 The Knicks have impressed Big Apple fans and media alike with their level of resilience all season long.
Of course, the team's defensive effort has been an elevated one since the day Mike Woodson took over as head coach. New York is now led by a determined as ever Carmelo Anthony, who has emerged as a surefire M.V.P. candidate. The team has lockdown and pestering defenders across the roster, and on the flip side, has offensive weapons who can come up in the clutch at the drop of a hat. What's more, a big difference from the team's run last season has been the consistent play out of the point guard position over the last couple of months.
It's safe to say the Knickerbockers have made vast improvements this season, dating back to last season's campaign.
Despite all that may be going the team's way, the Knicks' level of potential for this season's forthcoming postseason always continue to come back to that same level of resiliency. This year's Knicks squad is full of fighters, all hungry for more and determined to prove they all have what it takes to compete at a higher level that expected.
Such an attitude and mentality was present in the second half of New York's matchup against the Kings in Sacramento on Friday night. In the first half, the Kings nearly ran the Knicks out of the building, connecting on ten three-point fields, and furthermore, went into the locker room with a 21-point lead. The contest was shaping up to be one where the Knicks just headed back home, hanging their heads, but all the while focusing on the next one and never looking back. Every team has a bad night every now and then.
But New York made sure the bad outing was limited to just one half. After giving up 71 first-half points, the Knicks hit the ground running in the second-half, anxious to narrow the gap.
The visiting team wasn't going to go down easy. Despite being without Carmelo Anthony and Raymond Felton (among others), the Knicks' charge was once again led by Jason Kidd and J.R. Smith as the team clawed its way back.
Get a stop, then cash in for a shot. That was the gritty strategy Coach Woodson and his staff wanted his team to carry out during the game's latter half. And that they did.
Starting alongside the team's first unit in the third quarter, Chris Copeland played well offensively and ended up pouring in 23 points. The 28 year old rookie is catching opposing teams off guard with his bold shot selection, and the Knicks are reaping the benefits.
Without Anthony leading the way, J.R. Smith has had to step up as New York's go to guy in his absence. Such a role is one that the swingman has welcomed with open arms. He's aimed to carry the Knicks to victory, much like his buddy does oh so often. The fact of the matter is, as he proves doubters wrong, Smith is filling a massive void while playing the best basketball of his career. He scored a season-high 28 points against the Kings, while also grabbing 7 boards and dishing out 5 assists.
Tyson Chandler joined J.R. and Cope in the twenty-point plus club on Saturday, scoring 21 points next to his career-high tying 18 boards. Kidd also played well as he controlled the tempo, scoring 16 points and dishing out 7 dimes.
In addition to these notable contributions, other players continued to step up in time of need for the Knicks. Steve Novak broke out of a mini slump to score double-digits off the bench. Pablo Prigioni had a plus/minus of +17 as he dropped 9 assists and helped propel his team's comeback. Marcus Camby also hit the hardwood with some extra defensive intensity, blocking four shots in just 11 minutes.
There were strong performances to be found all across the Knicks' roster on Friday, but despite actually pulling away with as much of a five-point lead late, it just simply wasn't New York's night.
A hectic offensive possession by New York in the game's final seconds resulted in a turnover, giving the Kings the ball down two. The Knicks subsequently faced an even more crazed last defensive possession, and in a state of panic, the team saw Sacramento's James Johnson connect on his first three-point field goal of the season, giving his team a 106-105 victory.
As he sank the clutch shot, Johnson has also sank the Knicks' hope of completing one of the better comebacks in team history.
Coach Woodson will undoubtedly go over an immense amount of tape in practice to show his team exactly what they did wrong to be put into a position where their backs were all but against the wall. Such a feeble effort cannot be put forth again.
That said, one has to respect the fight the Knicks displayed in making the contest a competition one again. They may have lost the game, but such a gritty effort is the type of necessary that will prove New York to be a major competitor come playoff time. It's just a point of starting out strong, in addition to finishing off that way as well.