Knicks Pound 76ers To Earn Best Start In Over a Decade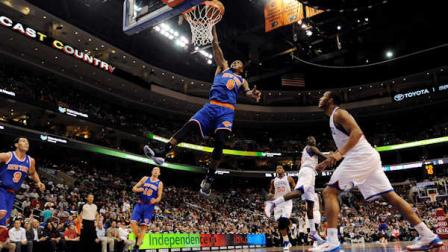 The Knicks defeated the Heat in their home opening in front of the nation's eyes. After beating the 76ers for their second straight win, (and the first game of a home & home series with Philadelphia), fans may have expected the opposing team to come out with a bit more fire as the 76ers looked for revenge on Monday night.
Impressively enough, the Knicks kept the division-rival down for the second straight contest.
In dominating fashion, New York pulled away for their third consecutive victory, earning them a 3-0 start to the season---the franchise's best in over a decade.
Carmelo Anthony poured in the points early, allowing Coach Mike Woodson to relax him later in the game. The Knicks' star did finish with 21, but this game was about far more than just Anthony. It was about the team effort.
Over the last three games, New York has unleashed a balanced attack to help propel them to victory.
For a player who preferred not coming off the bench, J.R. Smith is already making an early case for Sixth Man of the Year. He's filling it up on offense, and doing it an efficient rate.
This is the Smith that Knicks fans have desired to see for months now. He's such a lethal weapon when he plays in smart fashion. He's learning when to take his shots, honing in on the defense and understanding when to explode. What's more, Smith has officially appeared to buy into the team concept (as has everyone else, respectively) and works on getting his teammates involved as well. He finished with 17 points, 7 rebounds, 5 assists, and 2 steals---a true stat sheet stuffer.
While Smith has shown a bit of playmaking ability himself, it's no secret the Knicks have thrived largely in part due to the contributions from their floor generals. As last season proved (for the wrong reasons), having steady point guards makes all the difference. Luckily for New York, they have the steadiest of trios.
Only played 23 minutes before sitting as his team cruised to victory, Raymond Felton dished out 8 assists and aded 16 points of his own. Felton surely knows how to get his teammates involved, and is confident enough to take the bold shots when they're not open.
Someone who shares Felton's flair for distributing the ball is Pablo Prigioni. If the Argentine's stat line wasn't enough to get a Knickerbocker fan going, (11 points and 6 assists), look below to relive this electrifying slam following the dish by Prigs below.
Prigioni and Smith may have provided the electricity, but in no way could Rasheed Wallace be overlooked in this contest. Inserted in the game during the third quarter, Wallace looked much more like himself (and a lot less like Brian Scalabrine) on Monday, pouring in 10 points in just 13 minutes off the pine.
Things are certainly heating up for the Knicks, and the team will be looking to add yet another W to the victory column on Friday against the Mavericks.