Pablo Prigioni Signs New Pact With Knicks; Who's Next?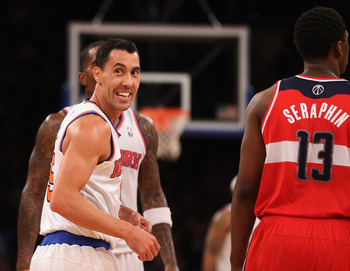 The dominos are beginning to fall.
After word broke that J.R. Smith will return to the Knicks, it's now also been said that Pablo Prigioni will too sign a new pact to remain in the Big Apple.
Though we know Prigioni is set to sign a three-year contract (worth approximately $6 million--- a little less), everyone's favorite beat writer Frank Isola reports that only the first two seasons are guaranteed.
To retain Prigioni, the Knicks had to reach into their mini-MLE fund (which is worth a tad over $3 million total). With only a portion of that now left, New York will look to use that to sign a forward for the team's second unit.
Could that big man be Chris Copeland? Perhaps the Knicks are hopeful April's "Eastern Conference Rookie of the Month" will return, but due to the flashes of solid offensive prowess he displayed towards the end of the season, Copeland may have priced himself out of the Knicks' spending range after all.
Still, all things considered, doing what they had to do in order to keep Prigioni in the fold was the right move. In addition to winning the first thirteen games during which the Argentine started, the Knicks benefited from his swarming defense and intelligent veteran presence. With Jason Kidd now retired, the role Prigioni stands to fill is all the more important.
The decision to bring Prigioni back is almost as smart and savvy as he is on the court. That said, the terms of his contract bring up some interesting things to think about. Though the 36 year old just finished his rookie year in the NBA, he played in Argentina and Spain from 1995-2012. Thus, he never once played anywhere close to 82 games in a season prior to joining the Knicks.
After playing in 78 games for New York this past season, Prigioni (at the very least), cited how not used to such a long season he really was. Will the wear and tear of playing potentially up to three more seasons in the NBA get to him quicker than most, or will the fact that he doesn't have as many basketball minutes on his body ultimately prove to be a benefit?
It would be a bummer to see the Knicks lose Copeland, who showed promise towards the end of the season after fighting his way through and competing for minutes with some of New York's other forwards. After trading Steve Novak to Toronto, it appeared as though some extra minutes may open up for Copeland next season, should he return.
Though the acquisition of Andrea Bargnani has been met with negative feedback due to his unruly contract and inability to stay healthy, the fact of the matter is he can do many of the things Copeland can do as well. Unless the Knicks plan on moving Carmelo Anthony back to the small forward position (which clearly, would be detrimental), Bargnani would appear poised to come off the bench (perhaps in place of Copeland) anyway.