Evaluating the Knicks' Latest Roster Decisions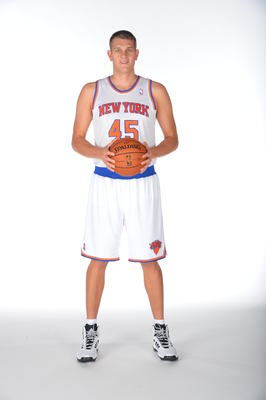 On Friday evening, the Knicks suffered a demoralizing defeat at the hands of the Charlotte Bobcats to close out their preseason. But before they did, however, some key roster decisions that are more likely to affect the team come next week's regular season opener were made.
With New York's final few roster spots up for grabs, the final decision broke down as follows: the likes of Jeremy Tyler, C.J. Leslie, Josh Powell, Chris Douglas-Roberts and Ike Diogu are all out, meaning Toure Murry, Cole Aldrich, and Chris Smith are all left standing instead.
In my opinion, the race for the three open spots could have been considered a five man race. Within a game or two, Powell (who has failed to stick with an NBA team over the years) was playing himself out of contention rather quickly. Douglas-Roberts never really seemed to receive a fair shot to prove himself, and Smith never appeared the least bit qualified to be considered in such a conversation.
But blood is thicker than water, apparently. Smith's relation to the Knicks' sixth man J.R. Smith proved to be more crucial than anyone could have guessed. The Louisville grad (along with Murry and Aldrich) is a Knick, and the others are not.
Murry has been a favorite of Knickerbocker brass (as well as the team's fan base) dating back to July. After displaying some defensive prowess and solid instincts in NBA Summer League, the guard further went on to prove his offensive abilities this preseason. He can take it to the hole with ease, and should fit in well playing in New York's two point guards lineups.
As far as healthy big men go, Aldrich fit the mold and was the right choice to sneak onto the roster. A true center, the former Thunder young gun's had good plus/minus numbers throughout the preseason. He held his own and proved he can compete alongside some of the team's better players. He's the type of gritty and defensive player the Knicks will benefit from having eat up minutes whenever necessary.
A worthwhile case could have made for any number of New York's camp invitees to make the team. Leslie is an intriguing young gun with a ton of potential. Similarly to Aldrich, Tyler has a nice skill set for a big man that the Knicks could have benefitted from. Diogu was able to pour in the points this month, proving he can still compete at such a level. What's more, Douglas-Roberts is able to create his own offense like not many other players can.
All that considered, each one had their own respective cons, in addition to some pros. Leslie (who may end up with the D-League affiliated Erie BayHawks) is too raw to warrant any meaningful minutes right now. Tyler is hurt and unable to contribute at the moment. Perhaps the likes of Diogu and Douglas-Roberts are too offensively minded for the Knicks' liking.
Needless to say, there were a couple of eye-popping omissions and/or additions when it came down to New York's final decisions, for better or for worse. It'll be interesting to see how such players will go on to help (or hurt) them moving forward.