Which Executive Will Knicks' Steve Mills Lean on Most?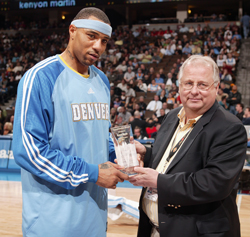 Upon being re-hired by the Knicks as the team's new General Manager, Steve Mills made it clear that he'd heavily be leaning on New York's already existent sea of worthy executives. Such members in the team's front office include Allan Houston, John Gabriel, and Mark Warkentien.
Frank Isola recently suggested that the latter of the three has a chance to be Mills' most trusted advisor this coming season. An "Executive of the Year" award winner in 2009, Warkentien has experience with the likes of Carmelo Anthony, J.R. Smith, and Kenyon Martin from his time with the Denver Nuggets.
I've said this times before, and I'll say it again: New York wanted to hire Mills for Mills. It wasn't about any other executive not being ready in time. The Knicks believe in Mills, much more so than any of the other worthwhile candidates.
If they wanted to hire someone else, they would have done so instead.
But Warkentien's value is evident, both as a proven executive and a trusted man amongst key players on the Knicks. Given his background for building up impressive rosters, and his relationship with Anthony, the executive could be a key player in New York's continued success. Could Anthony returning to the Knicks next season very well depend on just how savvy Warkentien conveys he and team can get with regard to continuing to build a winner around the superstar?
Interestingly enough, what's in all of this for Warkentien? Still highly regarded around the league, is a strong free agency period with New York next summer something that lands him a more substantial gig elsewhere? While more responsibility with the Knicks may come his way as the months go on, it's unknown whether or not such an increased role will result in a promotion or pay increase.
The more he says and does, the better Mills looks on all fronts. He'll probably do a more than fine job as G.M. (just as Glen Grunwald and Donnie Walsh did before him). That said, by hiring Mills and bypassing Warkentien, did the Knicks start the clock on how much longer the latter will stay on board? With key decisions and even more important pitches to made, here's to hoping Warkenstein is continuously intrigued to stay long enough so that New York can reap all the benefits of his services.