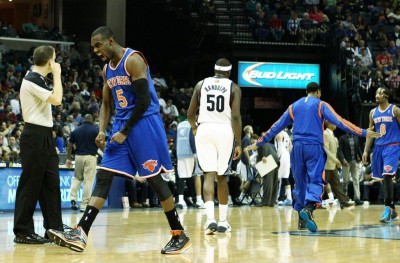 Though at this point in a disappointing season, one should come to expect that the Knicks would lose a given contest to the Memphis Grizzlies.
But on Tuesday night, New York teased its fans with what proved to be a valiant effort, that is, until the closing minutes. Fresh off an impressive NBA All-Star Weekend, both Carmelo Anthony and Tim Hardaway Jr. led the way for the Knicks towards a victory. However, they ultimately fell short of helping their team secure the win.
For more on what proved to be quite the let down of a loss, check out what our buddy Seth Rosenthal had to say right here.
Clearly with a couple of evident voids to fill on a roster desperate to inch closer towards a playoff birth, will the Knicks make a move before Thursday's NBA trading deadline? ESPN's Marc Stein reports that New York has the likes of floor generals Jeff Teague and Kyle Lowry on their radar.
On a related note, my pal Chris Herring of The Wall Street Journal has his own ideas as to who the Knicks should target as they consider pulling the trigger on a deal.
For what it's worth, the always interesting Ian Begley of ESPN New York ponders the Knicks' credentials with regard to a potential trade for Celtics' star Rajon Rondo.
On a much lighter, yet somewhat related note to close things out, I hosted Howard Beck of Bleacher Report on the RidiculousUpside.com Podcast this week. Obviously a well known writer around Knickerbocker fan circles, Beck discussed his time back on the Knicks' beat (and whether or not he misses it), among other things.
That's all for now, folks, but happy reading!
no comments